CFRE Refresher Course January 26, 2018
Corporate Plaza Business Center
6000 Freedom Square Dr.
Independence, OH 44131
The AFP CFRE Refresher Course is a one-day, intensive program intended to provide an overview of the six knowledge domains of the CFRE exam.  The course is not presented in a lecture format; rather, it is a combination of a high-level review, self-exploration of knowledge and peer exchange of best practices – all of which are facilitated by a knowledgeable fundraising practitioner using a caselet approach.  The knowledge domains:
1. Current and Prospective Donor Research
2. Securing the Gift
3. Relationship Building
4. Volunteer Involvement
5. Leadership and Management
6. Ethics, Accountability and Professionalism
Instructors:
Patricia Egan, MBA, CFRE
Karen Kannenberg, CFRE
Deborah Miller, MBA, CFRE
Diane Strachan, CFRE
View Instructor Bios

Approved for 7 CFRE Credits
* Continental Breakfast and Lunch will be served
AFP Members $390

Non Members $490
New Members for 2018
Ellen Brown – The Legal Aide Society of Cleveland
Joan Palumbo – The Eliza Bryant Village
Bob Cahen – The Lakeland Community College Foundation
2018 Officers
President: Betsey Kamm, MBA, CFRE – The Nord Center
Immediate Past President: Vacant for 2018
President Elect: Bob Cahen: The Lakeland Community College Foundation
Secretary: Karen Bain Hiller – Cleveland Sight Center
Treasurer/Treasurer Elect: Mitch Wasserman – The Wasserman Consulting Group and Micheal Wolff – The Northeast Ohio Medical Group
VP Professional Development: Fran Anderson – The List Marketing Group, Inc.
VP Resource Development: Betty Vrcek – University Hospitals Health System
VP Communications: Pamela Willits – PJ Wordsmith
VP Membership: Jessica Ford – Oberlin College & Conservatory

Directors Renewing for 2018
Neb Burke– The City Mission Lisa
Paul Sierk– LPS Consulting, LLC
Pat Milenius– The Congregation of St. Joseph

Laura Frye– Hospice of the Western Reserve

Matt Carter– Grants Plus

Beth Darmstadter– The MetroHealth Foundation

Dione Demitro– Lakeland Community College

Sandy Lucas– Catholic Community Foundation

Jessica Malone– Cleveland Clinic

Lindsay Marciniak– CCS

Erin Lang Turner– The Salvation Army of Greater Cleveland

Sara Thomas– Cleveland Hearing & Speech Center

Allison Tillinger– The Cleveland Museum of Art

Calvin S. Wood Jr.– United Way of Greater Cleveland

Melissa Woodard– The Rock and Roll Hall of Fame

Amanda Zima– Benedictine High School

Members Rotating off the Board for 2018
Sharon Martin, Marge Zellmer, Andre Calabretta, Bernadette Boguski and Linda Prosak
 

 Jennifer Smyser – The Lakeland Foundation

Natalie Ronayne – Cleveland Metroparks

Greg Renkas – Great Lakes Science Center

Lori Marks – Ideastream

Audrey Bucholtz – Cleveland Hearing & Speech Center 

Averil Braden
 Thank you to our sponsors and eveyone that attended the 2017 Annual Meeting! 
We hope to see you next year!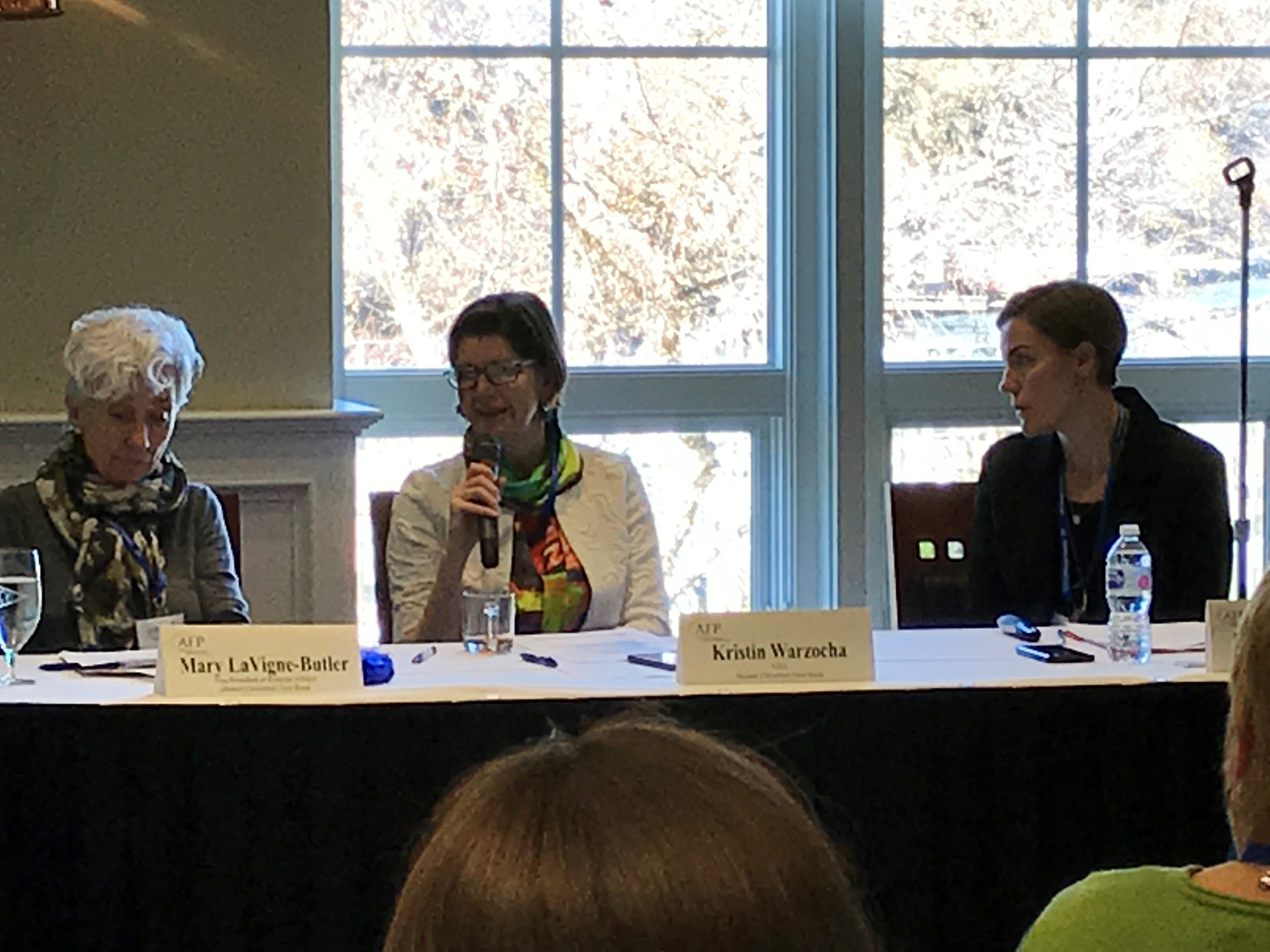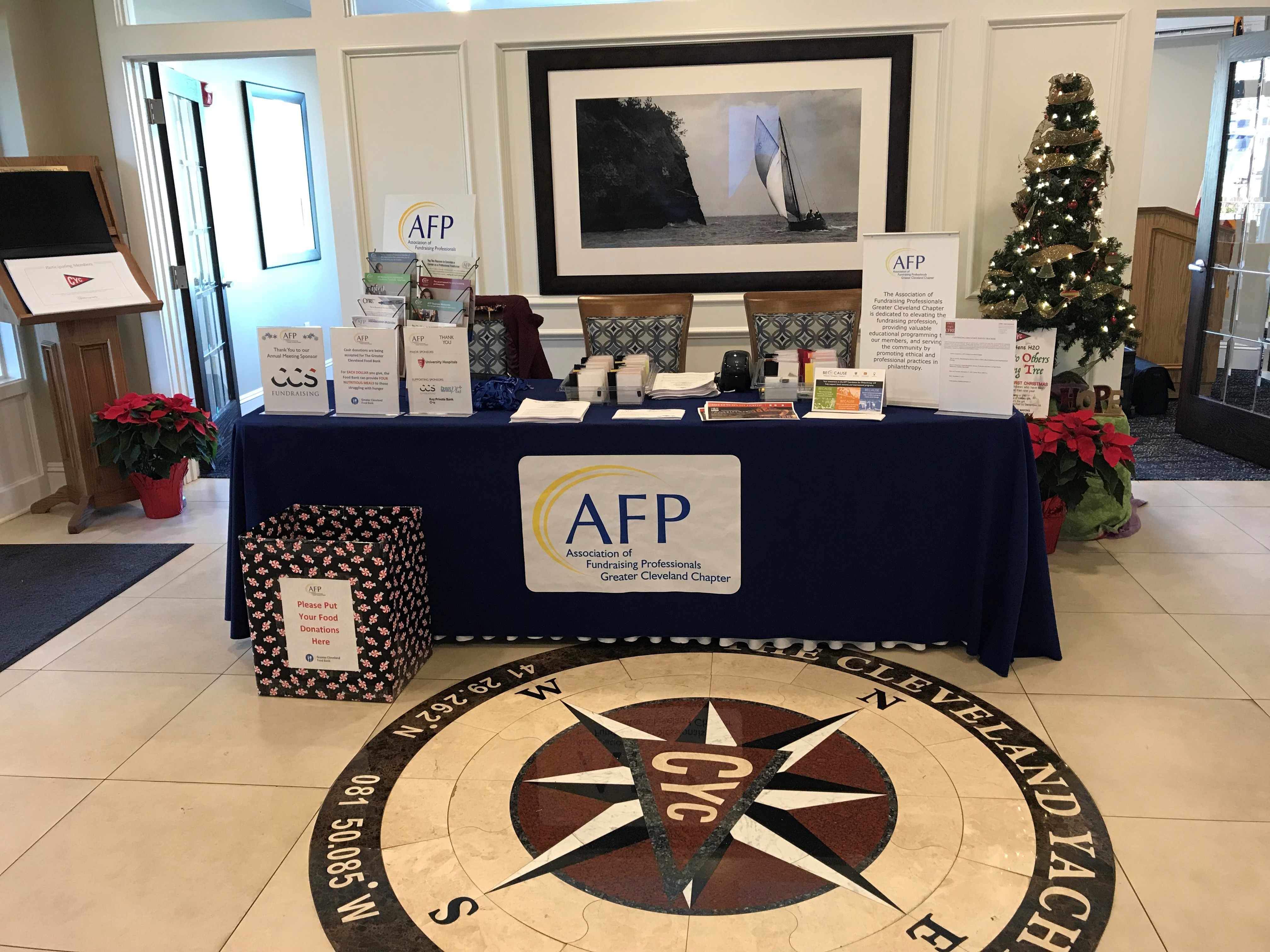 Lakeland Community College AFP Collegiate Chapter
Some of you will remember that last year I asked if any of you would consider participating in a session with our Collegiate Chapter/Human Services students so they could make their "pitch" to you to fund a program they chose as part of their class project on fundraising. This year, the sessions are scheduled for Monday, December 4 or Wednesday, December 6 at 9:30am at Lakeland Community College, and we would ask those interested to choose one date on which to attend. The students have chosen to focus this time on a program called IDA that Lifeline, Inc., an anti-poverty program in Lake County, is initiating. 

MENTORING PROGRAM
One of the benefits of membership in the AFP Greater Cleveland Chapter is our mentoring program.  At the end of each calendar year, members have the opportunity to sign up for a mentor for a one year relationship.  Mentors and mentees determine how often they would like to meet (a minimum of a quarterly meeting is encouraged) and topics for discussion.  The program has been a huge success with both mentors and mentees pleased with their new relationships.
The program is not intended to replace current educational opportunities or to serve as a substitute for professional consulting services.  However, it is an opportunity to develop a relationship with a more experienced professional in our chapter, learn from that person, ask questions, and get some guidance on your projects and career.
Applications are due by December 20, 2017.
Goals and Objectives:
1. Strengthen the skills of the mentee
2. Support professional career development for all
3. Help mentees learn the ropes faster to avoid setbacks/mistakes that come with inexperience
4. Build a foundation of professional practice and ethical standards
5. Build Confidence and Knowledge
6. Foster collaboration between seasoned professionals and newcomers or others who desire a mentor who is at a more senior level.
Requirments for All:
1. All participants must complete and submit the appropriate (Mentee or Mentor) application form to the Chapter Adminstrator at admin@afpcleveland.org
2. Complete and submit an evalution form upon completion of mentoring program.
Requirements for Mentee:
1. AFP member with a minimum of one year paid development experience
2. Meet with assigned  mentor as mutally agreed upon
3. Commitment to participate for one year
4. Be mindful of mentor's time and commitment (the mentoring relationship is not a subsitute for a paid consultant)
5. Mentee Application Form
Requirements for Mentor:
1. AFP member with minimum of five years of development experience; CFRE's are encouraged to apply
2. Commitment to participate for one year.
3. Meet with assigned mentee as mutually agreed upon
4. Assess mentee's ability and help steer him/her in right direction
5. Mentor Application Form
For further information, please contact Deborah Miller, Chair, Mentoring Committee at dsmiller@bw.edu or 440-826-2744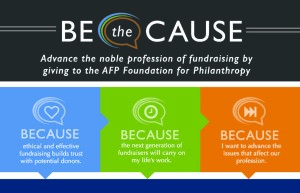 Donate to BE the CAUSE and acknowledge up to three professional mentors: this is an opportunity to thank mentors who have helped shape your fundraising career. Simply check the 'Thank a Mentor' box and include contact information for your mentor(s). We will send a letter notifying them that you have made a gift in honor of the help and support they provided to you.
BE the CAUSE Fast Facts:

 –Over the past three years, it has allowed AFP Greater Cleveland to distribute more than $10,000 in scholarships
 – All funds raised will be split 62/38 between our local chapter and AFP international

November 2, 2018 – National Philanthropy Day 2018

---